Who We Are
Back in 2013, my search for skin care products that didn't contain harmful chemicals began.  I found them lacking on what they delivered and they cost a lot of money.  In 2014, I made the decision to start making my own products.  After researching, buying the equipment and ingredients and making my first batch of homemade soap, I was hooked. I then started making lotions, lip balms and other products for my family and friends to use as well.  At the same time adding more gardens on my property to grow my own plants, herbs and loofahs for use in my products.  Pretty soon, people started to ask if they could buy custom products from me.
Well sure I can make custom products for my friends, but wouldn't it be cool if I could teach them to make their own?  That's when the idea for Green Thyme Workshop began.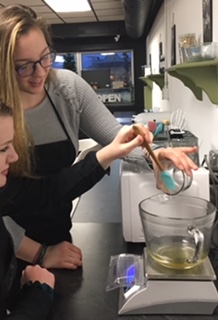 What We Do
A place where you can come in and learn to make your own custom bath and body products.  No need to search for ingredients and equipment because we have it all here.  We teach you to make your products and answer your questions.  You don't even have to clean up.
After learning to make your own soaps and lotions you'll be on your way to making even more natural products.  Not only does making your own products save money but it helps the environment by eliminating packaging waste.